The Ultimate Guide to Finding Your Perfect Necklace Length
May 24,2023 | Joycenamenecklace
Introduction:
Just like picking the perfect outfit, choosing the right necklace length can greatly enhance your overall look and style. Different lengths complement different necklines and face shapes, and the ideal length can truly bring out your natural beauty. Here's a comprehensive guide to help you find the perfect necklace length at Joycenamenecklace.
Understanding Necklace Sizes: A Closer Look
14" Collar
Fitting snugly around your neck, a 14" collar necklace highlights the neck and adds a touch of elegance. This length is especially flattering for heart-shaped and oval faces.
16" Collarbone
A 16" necklace hits right at the collarbone, making it a perfect piece for heart-shaped and oval faces. This length can beautifully accentuate your neckline.
18" Below the Collarbone
A versatile and popular choice, an 18" necklace falls a few inches below the collarbone, making it an ideal pick for oval faces.
20" Between Collarbone and Bust
This length is just right for sitting a few inches between your collarbone and your bust, flattering oval faces the most.
22" Below the Collarbone and Bust
A 22" necklace will fall a few inches below both your collarbone and bust. It's perfect for oval faces, adding a touch of elegance.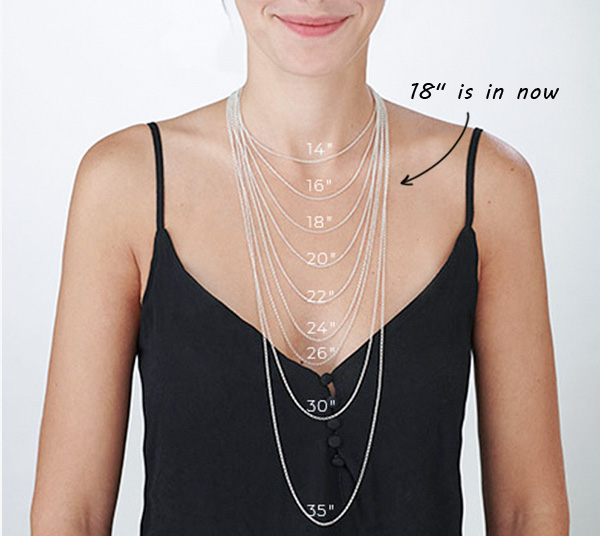 How to Determine Your Necklace Size
Measuring your neck is a simple but crucial step in finding the perfect necklace length. Here's how you can do it:
Wrap a tape measure around your neck, keeping it parallel to the floor. If you prefer a looser fit rather than a choker-like snug, remember to add 2 to 4 inches to your measurement.
Height and Necklace Length: A Perfect Match
Your height plays a key role in determining how a necklace will look on you. Here's a guide:
Under 5'4": Opt for a 16- or 18-inch necklace.
Between 5'4" to 5'7": Any necklace from Joycenamenecklace will suit you well.
Above 5'7": A 22-inch style necklace will be the most flattering.
Choosing a Necklace Based on Your Face Shape
Just like hairstyles, the right necklace can frame your face beautifully
Oval: Any necklace length or shape will complement an oval face.
Heart or Triangle: Opt for shorter lengths, like the 16" or 18" styles. Collar and choker necklaces will accentuate your face shape.
Round: Longer necklaces, such as the 22" style, can create a lengthening effect for round faces.
Square: Longer necklaces can help soften a strong jawline and make the face appear longer. We recommend the 20" style.
Rectangle: Collar and choker necklaces can help create a wider appearance for rectangular faces.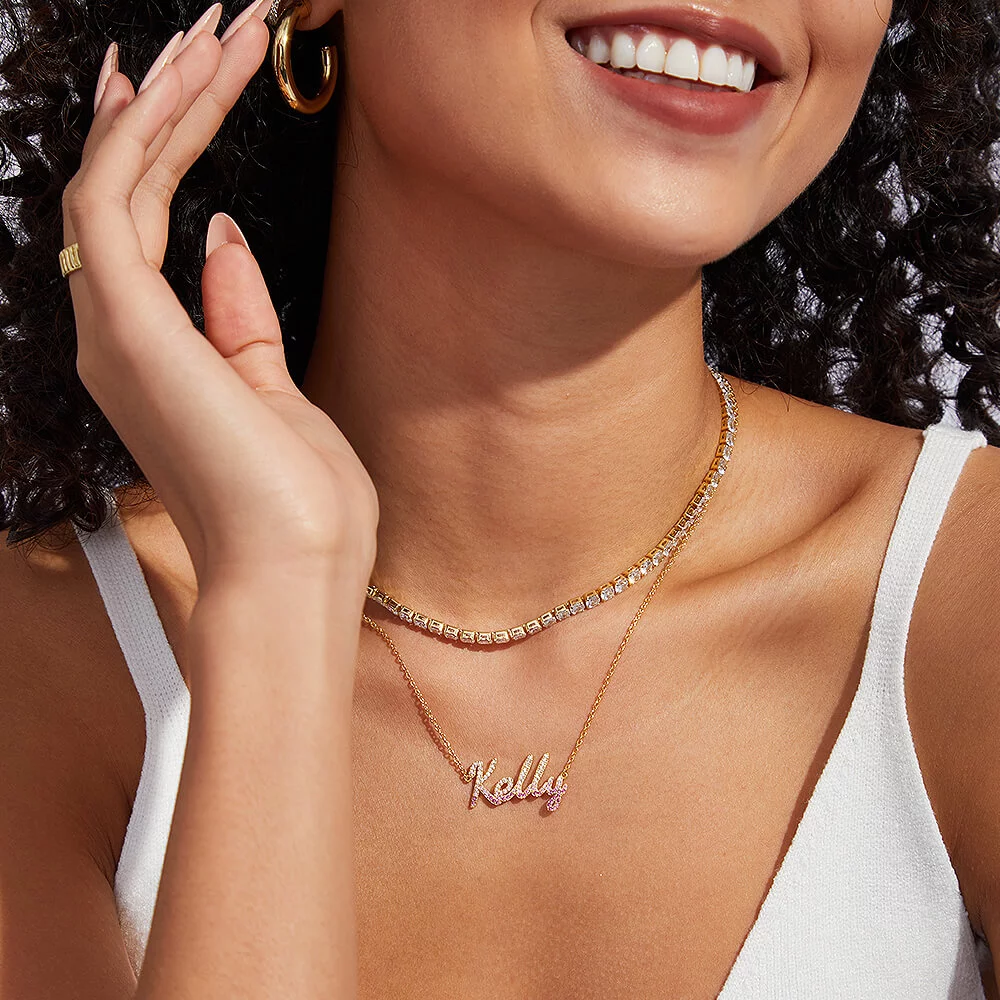 Customizing Necklace Length Based on Your Personal Style
Your necklace length should also reflect your personal style. For example, choker style necklaces pair well with summer tops or cocktail dresses, while longer necklaces can add a touch of class to winter turtlenecks.
Tips for Matching Necklace Length to Clothing Neckline
Neckline and necklace length can either make or break your outfit. Here are some suggestions for perfect matches:
Open Neck or Crew Neck Tops: These versatile necklines pair well with 16- or 18-inch necklaces.
Casual and Formal Outfits: A choker or 16-inch necklace adds just the right amount of detail to these outfits. However, avoid pairing them with polo and roll necks as they can cover the necklace.
Strapless Outfits: Go for 20- or 22-inch necklaces. These lengths will fall just right between the collar and bust, highlighting the outfit by drawing attention upwards and towards your shoulders.
High Neckline Outfits: A 24-inch necklace is the way to go. Its long length creates an exciting contrast and can act as a statement piece, adding pizzazz to a casual outfit.
And there you have it! With this guide, you'll be sure to pick the perfect necklace length for every outfit and occasion. Explore our fashionable necklace collection at Joycenamenecklace to find your next favorite piece.