🥰🥰Father's Day is June 20th! Get in time for our great DAD!
🧔Fatherly love is like a mountain, strong and dependable,No matter how far you go or how high you fly,Dad is always right behind you and hold your back.
💖Treat him with this unique bracelet engraved with names of your family members.Tell him:Don't ever forget how much your family loves you💖
Description
💟Bead Material: Titanium steel \925 Sterling silver
💟Bracelet Material: Genuine leather
💟Length:4 Adjustable belt holes(6.88-8.66 inches)-fit any wrist
How to personalize?
Letters limit: 12 letters each charm,

Can be engraved with any Name, Date, Initials.

Charm limit:Up to 12 charms can be added to the left and right of the letter U

You could add beads in the future. We only charge its cost (only $5 for one bead). Just e-mail us.
WHY HE'S GONNA LOVE IT:
💝This bracelet is a wonderful symbol of family, friendship, or values, or perhaps a combination of those, depending on the details you choose.
💝Designed to deliver a combination of comfort and classic style with a contemporary twist, it's a steadfast reminder of the special place he holds in your heart.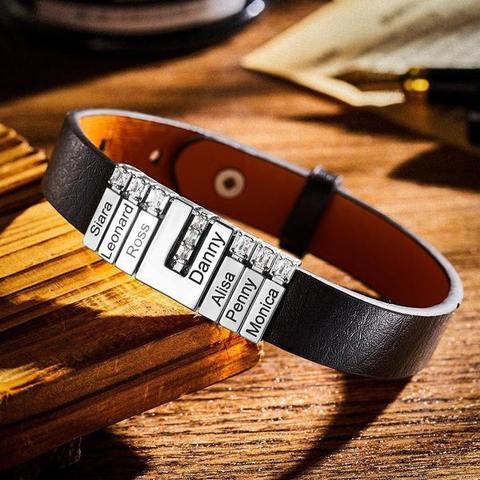 All of our products come directly from suppliers, avoiding middlemen, without extra charges.
NOTE:
**This item requires 5 - 7 business days to handcraft,
**This item cannot be modified once you finish the payment.